Description
Freestanding Aerials Rig | Portable
For use indoors and out, this Aerial Rigg / Stand will be the perfect accompaniment to avoid having to rig on beams when installing Aerial Silks at home and also wherever your aerials take you!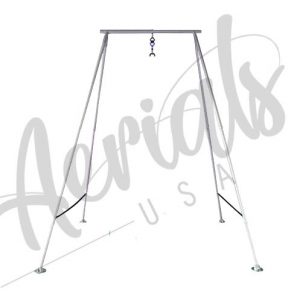 Frame Size: 11×10×62 inch
Product Weight: 65 lbs
Product: Size: Top 4.6 ft
Rig Height: 39 – 133 inch (Adjustable)
Width(Bottom): 157 inch
Weight Capacity: 1300lb
_____________________________________________________________________
REMEMBER! To always remain safe. We always recommend professional help – your safety is your responsibility. Always ensure you check and test rigging and regularly check your equipment before use.
Please keep in mind that most of our products are of a customised nature regarding size and length or we custom make them per order. FOR FREESTANDING RIGS: Please allow up to 2 weeks manufacturing depending on the influx of orders – however we'll strive to get your product out to you as soon as possible.