Description
Aerial Moon Hoop/Lyra For Sale
 Free Shipping Included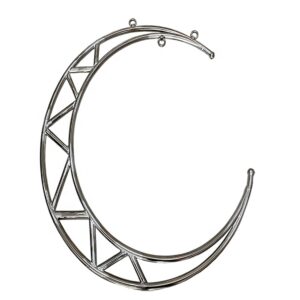 This beautiful Aerial Moon Hoop / Lyra is made of Marine Grade Stainless Steel  –  our hollow stainless steel Aerial Moon Hoops For Sale are exactly what you need for a unique reliable and strong aerial hoop,   We make our Aerial Lyras with 308 & 316 stainless steel Components with a very roughly 90 inch inside diameter.
Durable
Double Tab + Single Inner Top Tab (for hand loop or other)
Stainless Steel Aerial Moon Lyra/Hoop / Welded Steel Tabs & Joins
No Rigging included
Free Shipping (Within the US)
______________________________________________________________
REMEMBER! To always remain safe. We always recommend your product to be hung professionally – your safety is your responsibility. Always ensure you check and test rigging and regularly check your equipment before use.
Please keep in mind that most of our products are of a customised nature regarding size and length, therefore please allow up to 6 working days (not including weekends and Public Holidays) to process, depending on influx of orders. We will then update you with your tracking number. Enjoy your purchase – we know you'll love it!